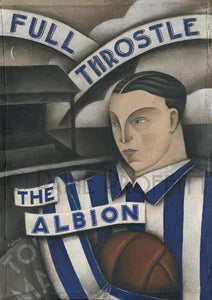 Paine Proffitt to design West Bromwich Albion programme covers for 2015/2016
Great news for all of you Baggies fans out there Paine Proffitt has been invited to design the program covers for this season's Full Throstle - so Remember "Get Yer Program" For All Your Albion News!
Here is an example of Paine's brilliant artwork is the cover
West Brom vs Port Vale cup game at the start of the season.
For any of the original artwork enquiries please do get in touch to put your name down to secure your one off original by Paine Proffitt as they are featured on the covers each week. 
Contact Amanda Bromley 01782 258 843 at BWSportsArt or Barewall to reserve or email shop@barewall.co.uk all through the season.
Visit our WBA collection to buy original art and prints by Paine Proffitt.
---